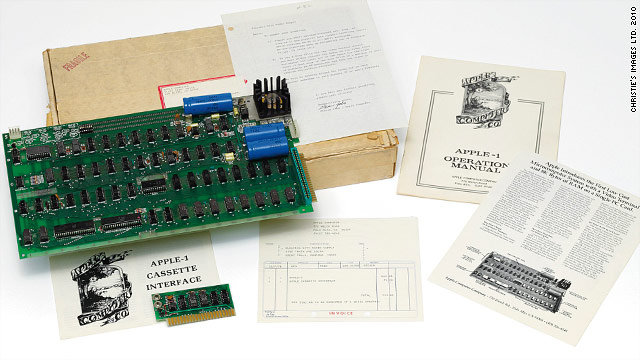 "
And you thought the MacBook Air was pricey?
An auctioneer is selling its distant ancestor and one of the world's first personal computers -- the Apple-1 -- for an estimated $161,600 to $242,400.
In 1976, Apple co-founders Steve Jobs and Steve Wozniak built the computer out of Jobs' family garage and sold it for $666.66.
The Apple-1 will be auctioned by Christie's in London, England, on November 23, with a simultaneous auction held online.
The Apple-1 that's up for sale is believed to be one of about 200 of those computers that Jobs and Wozniak created in 1976 and 1977. It comes in an original box -- with the return address pointing back to the California garage where Apple Corp. began -- and features the original Apple logo, which showed Isaac Newton getting hit on the head with an Apple." See the rest HERE